---
IF YOU LIKE TO KEEP THINGS SIMPLE but you like having real power at your fingertips whenever you need it... then you will be completely at home with our state-of-the-art webmaster's control panel.
"With this easy-to-use control panel you won't ever need to show up for work again...!"
Kenneth Baxter
Hosting Client
It lets you do everything a webmaster needs to do...
Making changes to your site and creating additional email addresses is as simple as few mouseclicks. Plus, get lots of extras that come in handy for "power users".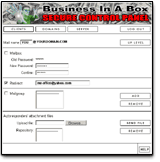 POWER... REAL POWER! Our control panel eliminates the need to have extensive technical knowledge in order to manage a server. It empowers you to manage all your online business needs.
It lets you compete effectively against larger companies with teams of technical people. Click here to enlarge this screenshot.
Plus, you get instant access to traffic statistics, functions to create new mail accounts, open additional hosting accounts, activate databases, create FTP and protected directories, and enable secure layer capabilities... and much, MUCH MORE!