Build Your Optin Mailing List FAST and BIG!
"YOU CAN CREATE a truly automatic marketing system. All you have to do is follow the easy 1-2-3 directions and you're ready to rock and roll!" Before you know it, you can be building a MONSTER mailing list -- and enjoying every minute of it. OptinMaster™ works around the clock for YOU. It monitors your website to capture and collect valuable email addresses 24 hrs/day. It's perfect for anyone who needs to build BIG lists quickly.

Automatic Opt-In Subscriber System...
"SYSTEMS LIKE THIS are sold elsewhere for $99.00 or more, and it's easy to see why. You can boost your subscriber rates by 300% or more!" It's so simple. OptinMaster™ automatically creates a gray pop-up box that appears on your website. All visitors need to do is click OK to subscribe. It's so easy. There's no need to fill out any forms... it captures email addresses automatically!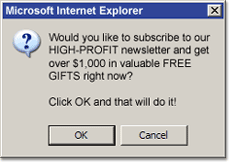 Time-Delayed Autoresponders...
"YOU WILL BE AMAZED at how constant and systematic follow-up messages will bring in the lion's share of your online profits!" OptinMaster™ is a high-capacity listserver AND automatic email follow-up system. You can send messages with html, graphics, video, and sound! Plus, OptinMaster™ can send up to 25 sequential follow-up messages. Yes! Time-delayed autoresponders!!
Get It Free On Select Hosting Packages
ASK ANYONE MAKING money online and they will tell you: Email marketing is the simplest and most comfortable way to earn a big income quickly...." And now you can have the most powerful system for making money FREE (a $99 value). This offer applies to the following hosting packages*: Silver and Gold packages only. You can also add OptinMaster to any other MarchHost hosting package for just $79.95 complete account holders only order now.